I can't say enough good things about Alice in Wonderland, the latest musical showing now through May 18th at The Marriott Theatre  in Lincolnshire. So I'll just start with three: Boisterous! Engaging! Just plain fun!
I'm no theatre-critic, I'm just a mother of two preschoolers, but I know when a show scores a home run with the family.  Even my grumpy "I-don't-want-to-spend-my-Saturday-going-to-the-theatre" husband  found several reasons to not only smile but literally laugh out loud.
Marc Robin's musical adaptation of of the Lewis Carroll book,  follows a young girl with an incredible imagination to an off-kilter world where fantasy and wordplay are the order of the day.  Alice meets up with a chatty caterpillar, a punctual rabbit, and a short tempered Queen in this imaginative musical adaptation of the beloved story.  Every step in this spellbinding new world becomes more and more curious.  From the antics of TweedleDee and TweedleDum to the oddest tea party you've seen with the Mad Hatter, March Hare and Dormouse,  your family will be whisked away on an unexpected adventure!
Consider all the worries you may have harbored about taking young children to the theatre erased.  The Marriott Theatre knows how to entertain the little ones and keep them glued to their seats (unless of course your child is one of the lucky few to be invited on stage.) Alice in Wonderland is brisk and enthralling moving from one lively scene to another.  The costumes alone are enough to mesmerize but the goofy antics and rambunctious songs make for an uproarious good time.  I dare you not to clap along.
Speaking of songs, the Cheshire Cat solo performed by Holly Stauder gets my official stamp of  approval for best vocal performance.  You expect a set of pipes like that on Broadway, but we are lucky enough to hear them in Lincolnshire.  Stauder also takes a turn as  Tweedle Dum, and you'll find many actors in the production playing dual roles.  At the end, see if your child can guess who is who.  If not, they can always ask the actors themselves as every Marriott children's production ends with a fun Q&A.
Children's productions at The Marriott Theatre are known for inviting audience participation, but I found these characters upped it a notch.  The Mad Hatter, absurdly played by Scott Calcagno, particularly engaged with the kids making him seem all the more insane.  Based on the laughter, he stood out as  a clear crowd favorite.
Tickets for today and tomorrow have already sold out, but there is good availability for Saturday, March 30th.  Don't worry, performances run through May 18th and you'll never have a bad seat at this theater-in-the-round.  Wherever you park yourself, you will be guaranteed a great view, and may even find a cast member or two scuttling between your seats searching for a white rabbit or fleeing from a homicidal Queen of Hearts.
Parents with especially sensitive children should know that there are no scary scenes, although violence is implied.  The Queen of Hearts is deliciously bratty thanks to Johanna McKenzie Miller, but her ear-piercing shrieks of  "Off with his head!" might have the potential to frighten the more tender-hearted.  There's lots of ax-wielding in one scene but it proves to be very slapstick.  My 4 and 2-year old thought it was all hilarious!  The 4-year old told me it was his favorite part, then again, he has a particular fondness for axes…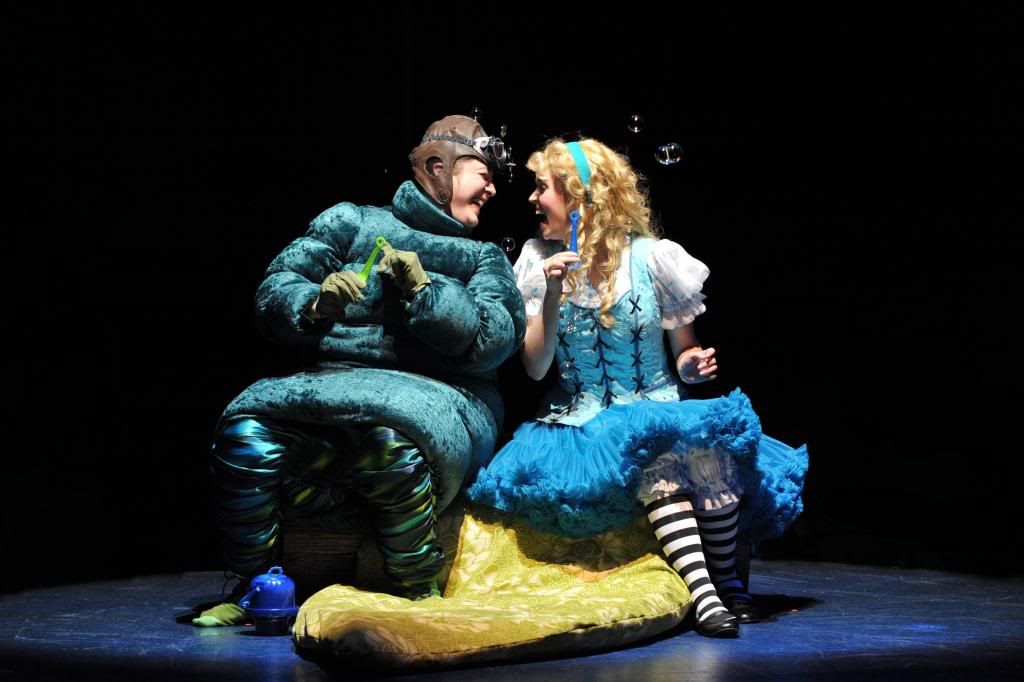 ALICE IN WONDERLAND runs most Tuesdays through Saturdays at 10 a.m. with certain performances at 12:30 p.m.  There are no performances March 31-April 10. Visit MarriottTheatre.com or call 847.634.0200 for exact schedule, as show times and dates may vary. Single ticket prices are $15 per person. Groups of 20 or more receive a discount by calling847.634.5909. Free parking is available at all shows.  To reserve tickets, call the Marriott Theatre Box Office at 847.634.0200 or visit www.MarriottTheatre.com.