Another reason to love Lake County! This park is maintained by the four main galleries. It includes: biking/walking trails, a playground, visitor's center, picnic pavilions, snack bar and beach – all surrounding a 115 acre lake.
Kid friendly bathrooms and water fountains are available at the Visitor's Center, which is open daily. The park is free to Lake county residents, but there is a fee for beach admission. This is updated annually on their website.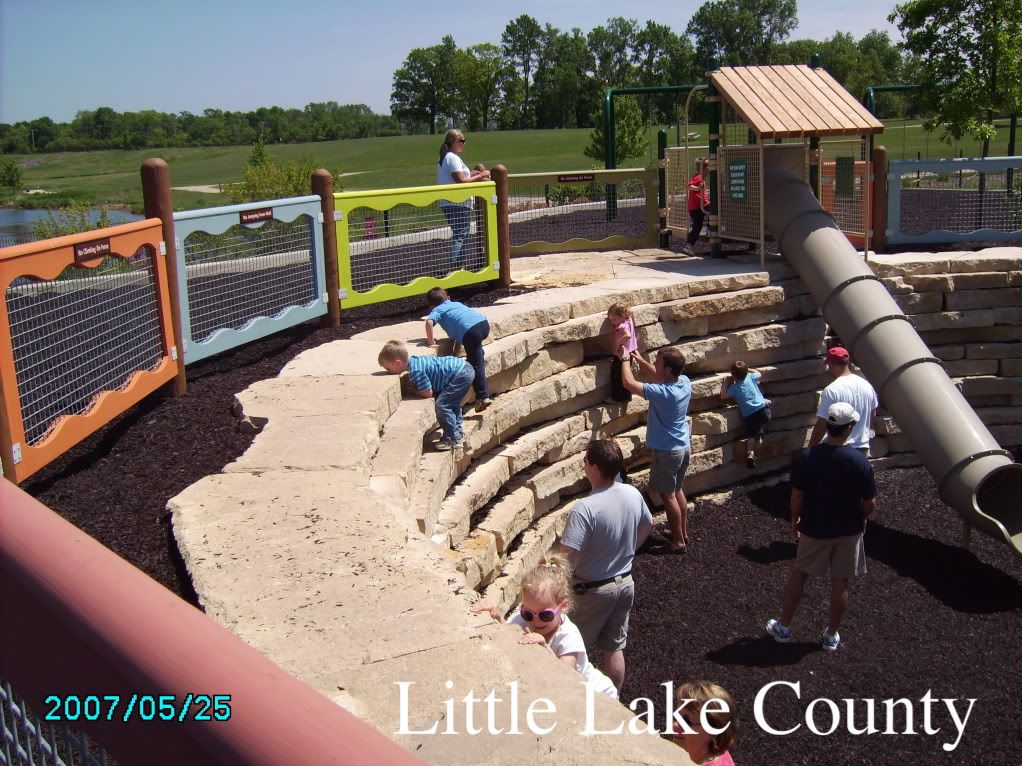 If you plan to spend the day, treat yourself to lunch at the snack bar. They have one of the best Italian beef sandwiches I've ever had. It's a little pricey, but worth the treat. You can pack some sandwiches for the kids and they'll be happy to play at the Children's Grove, a sensory-rich playground with state-of-the-art handicap-adaptable play equipment. A word of warning however, if you have multiple small children, I
recommend taking another caregiver with you. While the massive climbing wall and underground tunnels are fun, they are a coronary-in-the-making for parents who are tracking multiple kids. The park also has more than one level, so it's impossible to be within arm's reach of everyone at once. Fortunately, it is fenced with only one exit. So, now that my kids are older and can manage the play equipment without help, I only
have to watch the exit to make sure they don't escape! I can do that from the comfort of a picnic table – while enjoying my lunch.
The trails are great for biking, walking and roller blading in spring and fall. But by summer, these can get a little hot due to a lack of shade. In that case, visitors can head to the beach. For a few dollars, kids will enjoy the sand and surf (which is really just a few ripples, but still fun.) Families with older children can even rent canoes or take a guided hike with a naturalist.
Lake County residents should be prepared to show a form of identification at the front gate for free entrance. Then, enjoy your day at Independence Grove!
Independence Grove
Visitors Center is open Daily from 9:00 am – 4:30 pm unless otherwise posted
16400 W Buckley Rd
Libertyville, IL 60048 
847-968-3499 (phone) 
The entrance and parking area are located on Buckley Road (Route 137) just east of Milwaukee Avenue (Route 21) and west of River Road.