The newest piece of the Chicago Botanic Gardens new Learning Campus, the Kleinman Family Cove is opening tomorrow, September 4. The Kleinman Family Cove will give children and families a chance to explore the water of the North Lake as well as the aquatic plants and animals that reside there.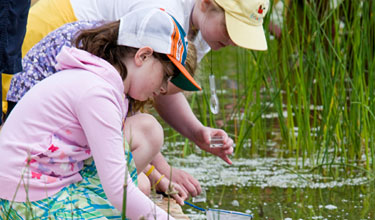 The new Kleinman Family Cove allows guests to both explore the waters edge and wading area but also explore the water from above on a boardwalk. The cove also features an amphitheater with stadium seating to provide for groups to enjoy the landscape.
COVE HIGHLIGHTS (from Chicago Botanic Garden)

A canopied outdoor amphitheater overlooks a small bay where students will don waders and use nets to analyze aquatic animal life, assess water quality, and discover why water is important to human health.
On a broad boardwalk, students can view aquatic plants at different depths, perform water tests, and sample water for aquatic creatures.
A demonstration garden reveals the importance of shoreline management and aquatic plants.
Interpretive signage guides even casual visitors to observe and understand aquatic wildlife and habitat.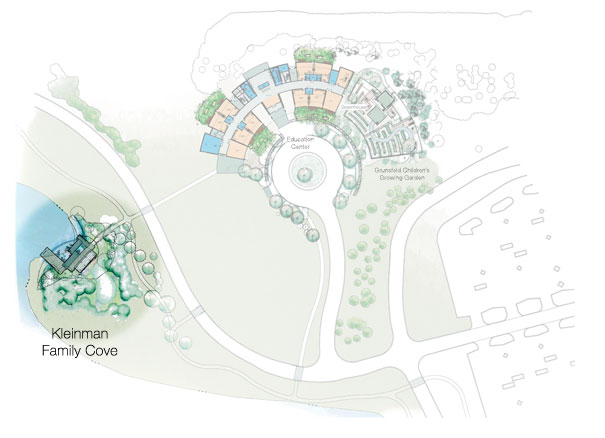 The cove is the newest edition to the Learning Campus which includes the Gruensfield Children's Growing Garden. It's another addition that makes one of our favorite places to visit with the kids even more kid friendly and hands on. We can't wait to go check it out!
Admission to the Chicago Botanic Garden is free, some special event do have an additional fee. Parking is $20 per car.
Chicago Botanic Garden
1000 Lake Cook Rd, Glencoe
(847) 835-5440
Connect with the Chicago Botanic Garden
• Blog
• E-news
• Facebook
• Flickr
• Twitter
• YouTube