Welcome to Locally Grown! Locally Grown introduces you to the people and stories behind Local Lake County businesses. Today it is our pleasure to introduce you to Laura Knight. Laura is the owner of Knight Music Academy, a community music school in Lake Zurich.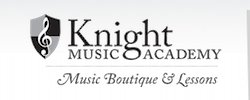 For many people, a dream come true would be to take a favorite pastime and turn it into a career. Laura Knight from Knight Music Academy did just that. When she became disillusioned with working for someone else, she decided to follow her own dreams.  Although originally from Chicago, Laura has lived in Volo for the past 10 years. She realized that Lake County was lacking in musical opportunities for families, compared to the city. She used her own passion for music and education to bring a community music school to her own backyard.
I began taking classical guitar lessons at the age of eight. I began teaching at 18, and worked for various prominent community music schools in Chicago including the Community Music Division of DePaul University, and the Suzuki-Orff School of Music where I was not only a guitar instructor, but an administrator as well. It was at Suzuki-Orff where I learned a lot of the ins-and-outs of fine arts administration. It was also at Suzuki-Orff that I was trained in early childhood music instruction and introduced to Orff.
Laura's love of teaching and her priority on quality education is evident in the way she runs her music academy and the teachers that she employs.
It is so important to find teachers who have the proper credentials. I am proud to say all of our instructors have a minimum of a bachelor's degree in music, but most have master's degrees in their area of expertise. They also have extensive teaching experience, as well as experience in performance. Many also have additional training including, but not limited to, Suzuki or Orff training.
Laura understands the desire for parents to have exceptional music education for their children, because she is a mom as well. Being with her 3-1/2 year old son is her first priority, and she tries to spend as much time with him as possible, while juggling her music school and her students. Fortunately, her son is able to enjoy her job as much as she does!
My son is very enthusiastic about going to the "music academy." He participates in our early childhood program and has made friendships with other kids that he's been in class with for the last two years. He also enjoys going to the academy and "playing" the piano and interacting with a couple of his favorite instructors that he asks about by name.
Kids as young as Laura's son can begin their music experience with Mini Mozart classes. As they grow, Knight Music Academy offers individual and group classes in piano, guitar (electric and acoustic), flute, violin, viola, cello, drums and voice. Laura has exciting plans for the future as well!
We are hoping to add bass (both upright and electric, classical and jazz) to our offerings in early 2016, and we are also planning on adding a group fiddle class in 2016. Long-term (relatively speaking), we anticipate having to expand our facility in the next two or three years to meet the demands of increasing student enrollment.
If you would like your child to be a student at Knight Music Academy, they are offering special discounts to Little Lake County readers:
1. 10% off any boutique purchases through 2/15/16. (Excludes guitars.); and
2. 10% Off Spring Quarter Tuition when you enroll by 2/15/16. New students only.
Stay tuned for more information about Knight Music Academy's Mini Mozart classes for moms and tots later on this month! Knight Music Academy was also featured in our 12 Shops of Christmas! Read more here.
Knight Music Academy
579 N. Rand Rd., Lake Zurich, IL 60047 | (847) 726-8742
Facebook | Twitter | YouTube
---
Disclosure: Knight Music Academy is our featured Locally Grown Business of the Month. This series of features is part of a paid partnership with Little Lake County. Contact littlelakecounty[at]gmail[dot]com if you are interested in featuring your own locally-owned business in our monthly series.