We love shows and movies that feature siblings or teams. It's a great way to reinforce sibling bonding and teamwork in our large family.  Whether it be best friends fighting crime or learning life lessons at the core is still the bond of friendship.  This month as part of the Netflix Stream Team we're celebrating Friendsgiving and sharing with you some of our favorite Dynamic Duos, perfect for a sibling movie night.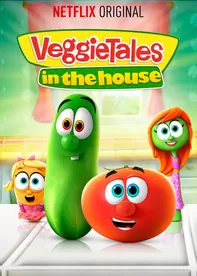 Larry and Bob are one of our families favorite duos. The whole family loves their adventures, including the parents!  Coming to Netflix on November 26 is a brand new adventure, Verggietales in the House.
The beloved faith-based brand hits the small screen with a fresh new look and all-new adventures. Join Bob the Tomato, Larry the Cucumber, and all their veggie friends as they explore new areas of their wondrous house while singing catchy, original songs included in each episode.
No one has more friends or tales of friendship then Sesame Street and the lovable duo Bert & Ernie! Enjoy tales of friendship with Elmo and Friends, Cookie and Friends or more.  I personally love to watch the classic episodes with my kids and start conversations of back when I watched Sesame Street. I love watching their faces as they listen in disbelief how different things were, like my sisters and I didn't get to take turns "picking" a show, we just watched what was on!
Other recommendations for great duos for your toddlers and preschoolers are Bo and Dezzy from Bo on the Go!, Justin and Oliver from Justin Time, Clifford and Elizabeth from Clifford the Big Red Dog.
If you have older kids these are some of our favorites:
My oldest two (6 and 9) are obsessed with Scooby-Doo. They could binge watch it all day if we let them. They crack up at the hokey jokes (which are the same as when we were kids!) and after watching several seasons finally figured out the 'formula" for the mysteries and now challenge each other to guess the criminal first.  The take the lessons away form the TV too and create adventures of there own. I love watching them work together and plot out the story, even if I have to remind them their baby sister is not an evil monster.
We can't talk about dynamic ssiblingduos without mentioning superstar Kratts brothers.  Chris and Martin and their animal adventures are always on heavy rotation in our house. All of my kids love animals and so even when they may not understand the storylines my little ones like to watch it too just to see the animals.

Other recommendations for older kids Phineas and Ferb, Finn and Jake from Adventure Time, Mario and Luigi from The Super Mario Brothers Super Show! and Charlotte and Wilbur from Charlotte's Web.

Parents, don't forget the ultimate Friends… you know them Ross, Rachel, Joey, the whole crew is coming to Netflix on January 1! Mark your calendars and throw the resolution list out the window, we know where you will be (on the couch, reliving your youth through Friends episodes)!

Disclosure: I am a member of the Netflix Stream Team. I received a streaming membership in return for my sharing what we're watching with you. 

This post is written as part of my partnership with the Netflix Stream Team.