Bookstores hold a place in the hearts and times of our community. They are places to discover an author, a story, a life. Nothing affords the conversation and interaction among books and book lovers that a bookstore does. In the future, whether you download your story or pluck a volume off a shelf, a bookstore will be able to accommodate. But in order for bookstores to flourish and thrive, we must expose future generations to the unique pleasures they offer. On December 4th, 2010, take the child in your life to a bookstore. Watch his face light up as you give him free access, not just to a new book, but to tomorrow.
—Jenny Milchman
I love bookstores almost as much as I love libraries. When we lived in the city I was grateful for both the chain books stores with their train tables and free storytimes (combined with the convenience of in-store coffee shops!) but also the small independent books stores. There was one store in particular that when I had kid free time I used to love to get lost in. Filled to the rafters with old books it was a magical place.
This Saturday amidst the hustle and bustle of the holiday time why not stop by one of your local bookstores and introduce your children to the wonder and excitement of books?
You may be wondering, is my child old enough (ready) to go to a literary event at a bookstore. It can be daunting. Libraries almost have to accept you there, it's your tax dollars that built them! Bookstores however are filled with things that they expect you to buy, especially if your child has drooled all over it! Here are some of my quick tips:
Contain: If your child is still young enough to ride in a stroller bring them in a stroller. That way you can keep their sticky, drooly hands contained and move quickly through the adult section as you make your way to the children's area. Most stores already keep the children's are pretty well contained.
Plan for optimum behavior. Trying to squeeze in a trip when your children should be napping, or are hungry will never work. Make it the event of the day and plan around it.
Storytimes: Storytimes are great for kids of all ages. However you need to know your child. If they loose interest quickly do not get there early and sit at the front. Stake out a spot by the train table and let them play and listen.
I recently took my daughter (3) to a book reading and signing by Fancy Nancy
 author Jane O'Connor at The Book Stall  in Winnetka. This is a great little store that frequently has these type of events for children. At 3 she was probably just barely old enough to make it worth the trip. However she did great and still talks about it today. I would say that author events are best suited for children over 5 who are used to sitting in school, and larger crowds. I think these type of events work best for authors/books that the children know really well and love. My daughter is currently obsessed with Fancy Nancy which is why my young child could tolerate the waiting and the crowds, if it was someone she was not as enamored with it would not have gone over so well.
The Book Stall did a great job with containing 50excited little girls (dressed in their fanciest!). Jane O'Connor was funny and really connected with all the girl in attendance. The store had fancy cookies on hand and a special gift (a Fancy Nancy coin purse she is still carrying) for all the little girls after the event. Keep in mind that at events like this the Meet and Greet (or book signing) after the reading can get chaotic. Everyone wants a turn and they want it now. If you have a child that does not like crowds be sure to either skip that part or have another set of hands to take them out of line until you get to the table. Another good tip, purchase, or at least have picked out and in your hand, the book you will have them sign before you get in line.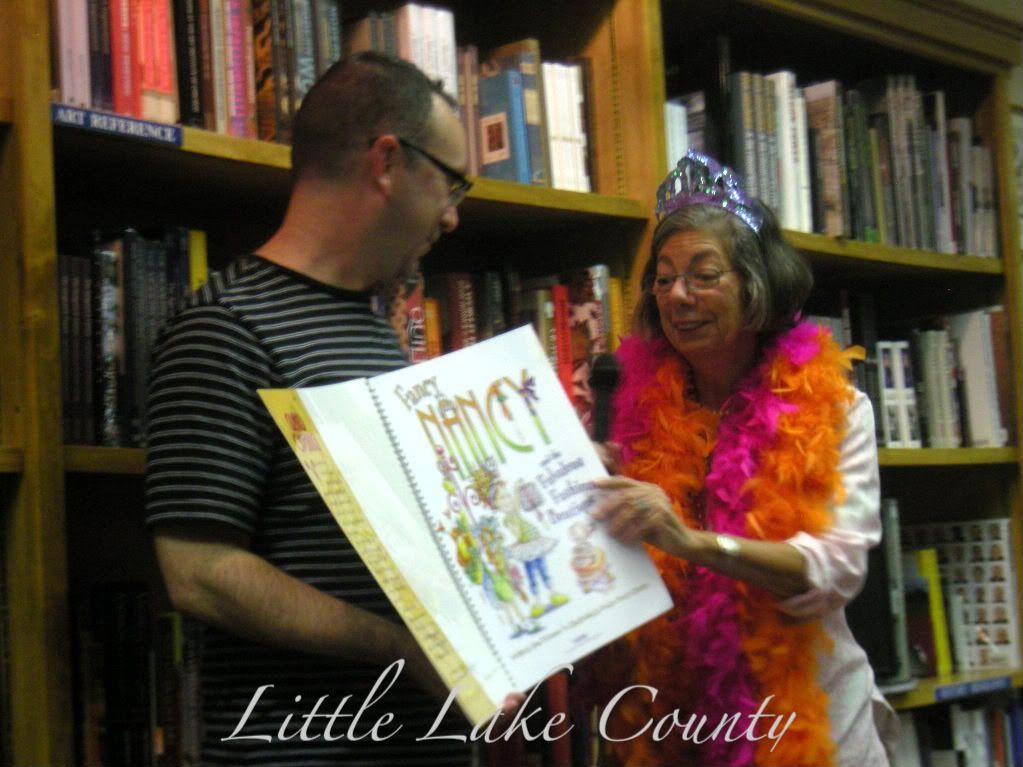 The most important tip I can give you is to know your child and keep your expectations in check.
If your ready to take the plunge and go visit a bookstore this weekend here are my picks:
The Book Stall in Winnetka: They have a storytime scheduled for 10:30am on Saturday
Barnes and Noble: Multiple Locations many have weekly events for children
Borders, Gurnee Storytime every Saturday morning (Editpr's note Borders is now closed)